Where the adventures happen
Set among 600 acres of beautiful countryside at the Essex Wildlife Trust headquarters at Abbotts Hall Farm, the Nature Nursery nestles among a patchwork of fields, meadows and woodland with wide skies and sheltered woodland. Different zones within the Nature Nursery provide a variety of sensory and learning experiences.
Badger's Garden is an enclosed garden with outdoor kitchen and sustainably heated building, vegetable patch, log circle and places to dig, play and create.
Badger Sett is a Yurt with a log burner, located in Badger's Garden that provides a storage base and shelter from extreme weather, if needed, with nearby composting toilets within the garden.
Billie's Kitchen is located in Badger's Garden and provides a seated covered area for cooking and eating with space for an open fire in the middle and a pizza oven.
Lamb Meadow and Orchard is a fenced natural wildflower meadow with growing fruit trees. It's a great place to search for wildlife, run through the long grass, pick fruit in the autumn, and play under falling blossom in the spring.
Stable Wood is accessed over a bridge from the meadow. It is a small woodland with a variety of trees and a log circle and bell tent to provide shelter. Here, children can play, explore, balance, make fires, build dens, and have adventures.
Abbotts Hall Farm is our main headquarters. There will be supervised explorations to other parts of the farm to experience crops growing in the farm fields, colourful flowers in the gardens, the wide view of the saltmarsh from a bird hide, other woodlands, Forest School sites, and pond life in the garden pond.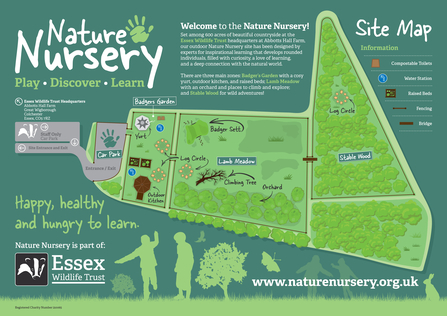 Contact us
For further enquiries please call: 07730 217262 or email info@naturenursery.org.uk
Abbotts Hall Farm, Maldon Road, Great Wigborough, Colchester, CO5 7RZ