The wonder of nature is never more apparent than during autumn in Essex; crisp, sunny mornings, leaves falling from the trees and fascinating autumnal displays offer the perfect opportunity to enjoy the outdoors with your family! Why not try one of these educational activities?
How to check your bonfire for wildlife
We give our top tips on how to avoid harming wildlife this bonfire night.
Build a survival shelter
Experience the nature from the inside of your very own fortress by building a den! You can make your own in your garden, or attend one of our Forest School sessions and learn how to make a super survival shelter at one of our woodland sites.
Create some leaf art
With so many colours to choose from, autumn is the perfect time to get creative with leaves! Collect your favourite ones and make a beautiful display.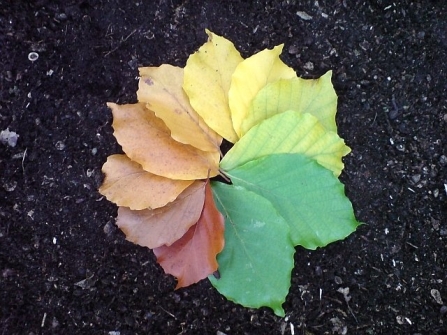 Look for tracks
The soft muddy ground makes it perfect for spotting signs and tracks, why not see how many you can spot using our spotting sheet?
Try Nature Tots
Our hugely popular Nature Tot sessions are held across Essex and offer the perfect opportunity for your little one to feel connected to nature. Here is a sneak peek into the fun to be had during our weekly sessions, and book your next adventure here! 
There are lots of ways to enjoy nature this November – we would love to see your pictures, make sure you tag us on social media!