Following the epic 2,500-mile migration of the Dark-bellied Brent Goose
This year, Essex Wildlife Trust and the Southern Colour Ringing Group have launched a satellite tagging project, to track how Dark-bellied Brent Geese use the Essex coastline over winter and to follow their journey back to the breeding grounds in Siberia. The Dark-bellied Brent goose arrives in Essex from October, with over a quarter of the world's population spending the winter months around the Essex coast, then in March they begin their epic migration once again.
Satellite tags allow us to gain invaluable data on the geese's movements and in time, the data will identify sites that are important for the geese and help to inform future landscape-scale conservation efforts. We're especially interested in finding out how the Brent Geese are using the Essex coastline and the data will feed into the management plans of our nature reserves and inform stakeholders in the wider landscape.
Journey updates:
Jan 7: solar powered satellite trackers were attached to 5 birds on Blue House Farm nature reserve.
Mar 1: BRAN05 crosses over to use our Lower Raypits nature reserve.
Mar 8/9: BRAN04 was the first bird to jump across the channel. The male bird moved to the edge of Foulness island where it stayed til midnight, then at 2am it travelled up the English Channel.
Mar 9: BRAN04 recorded off the coast of Holland at 6pm in the Wadden sea off the Dutch island of Terschelling.
Mar 10: BRAN04 stayed less than 24 hours in the Netherlands, moving up to the coast of Northern Germany about 30 miles from the border of Denmark. BRAN04 is being recorded moving every couple of hours in a north easterly direction. So far this bird has travelled approx 400 miles in 36 hours. 
Mar 11: BRAN04 is stationary and having a feed up along the northern Germany coast.
Apr 2: BRAN02 crossed the channel - he was in the middle of the north sea at midnight and by 6am had reached an island just south east of Vlieland in the Netherlands. BRAN01 collar has had technical difficulties but this pair are together in a small group of about eight birds. These birds are about 3 weeks behind the first GPS tracked birds to leave. 
May 10: Three of the birds are spotted on Terschelling island in the Netherlands and Hooge and Amrum islands off of Germany. 
Jun 5: BRAN02 flew 200 miles from the Wadden sea to the edge of the Baltic sea in southern Denmark - taking 24 hours to reach the Baltic sea, passing over northern Germany. It is unlikely BRAN02, the last Brent goose to leave Blue House Farm will be breeding this year as he should have reached Siberia by now.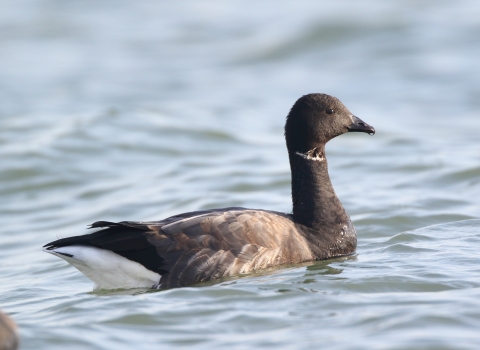 Brent Geese Project
We're incredibly grateful to The Essex Recorders Partnership, Essex Birdwatching Society and the Southern Colour Ringing Group for fundraising for these satellite tags and helping the project come into fruition.