We have a wide range of volunteer opportunities. We are always on the lookout for volunteers to help in our Nature Discovery Centres, on our reserves and with our education teams.
Join our incredible volunteer team?
Volunteers donate time, skills and expertise to conserve wildlife across Essex so future generations can enjoy it's natural beauty. People volunteer to learn more about nature, socialise, get fit, gain experience, go outdoors and to give something back. Whatever your reason for thinking about volunteering we would love to hear from you.
To make an enquiry or find out more about our current volunteer opportunities please complete the form below, email volunteering@essexwt.org.uk or call 01621 862 940.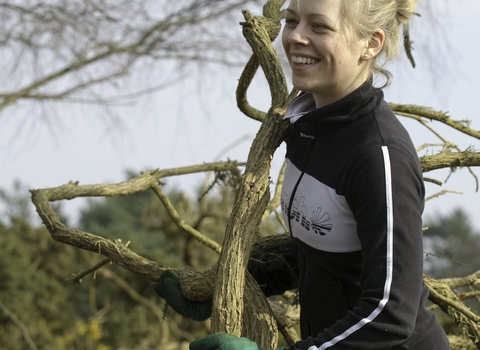 Volunteer with us
Find out more about the different types of volunteering you can get involved with
Find out more
Volunteering FAQ's
I don't have much time to volunteer; do you have an opportunity for me?

Yes, we have a variety of opportunities that might suit your needs. Some of our volunteers are involved just once or twice a year in events, magazine deliveries or one off work parties.
I don't know anything about wildlife! Can I be involved?

Yes! We welcome people from all backgrounds and hope that our staff and volunteers will be able to share some of their knowledge with you. We offer volunteers training appropriate to their role.
Can I bring my dog?

Unfortunately almost all of our activities are unsuitable for bringing your dog along too, many of them involve using power tools or are inside!
How old do I need to be?

We accept volunteers from the age of 14 and older. Volunteers aged 14-18 can only be placed in certain positions. We don't have an upper age limit.
Do I need to be a member?

No, we are grateful for the different sorts of support donated to us.
Will I be insured?

Yes, Essex Wildlife Trust has Insurance that covers volunteers who are operating within our guidelines.
Do you provide expenses?

We can cover travel expenses for your volunteering but you must discuss this with your supervisor beforehand.