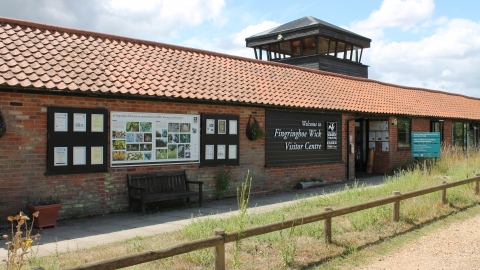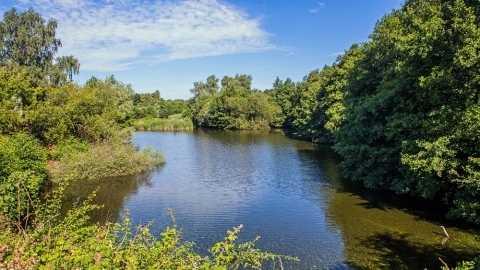 Fingringhoe Wick Visitor Centre
Please note: The Margert Hide will be closed all day on Friday 18th October.
Essex Wildlife Trust's first nature reserve and visitor centre, set in a spectacular position overlooking the Colne Estuary, even on the dullest of days the views are fantastic. It offers the visitor real peace and quiet and a chance to escape from it all. A wide range of habitats are on view here, including grassland, heathland and ponds.
Know before you go
Parking information
Free on site car park
Bicycle parking
Yes
Grazing animals
We occassionally have some of the Trust's "Flying Flock" assisting with our reserve mangement. The flock usually consists of Shetland sheep.
Walking trails
Reserve Trails The Reserve Trails lead you through the various habitats woodland, scrub, heathland and past ponds and towards the estuary. Access to the beach is not permitted.
Access
Visitor centre is level access, several level access hides.  Wheelchair and All Terrain Mobility Scooter available to borrow on request. Vehicle access permitted to selected areas of the reserve. Adapted WC.
Dogs
On a lead
We have designated dog trail which is approximately 1 mile. Dogs are not permitted on events
When to visit
Opening times
Open Daily 9am - 5pm
(November, December & January 9am - 4pm)
Closed Christmas Day & Boxing Day
Best time to visit
All year round
About the reserve
Fingringhoe Wick was Essex Wildlife Trust's first nature reserve (1961) and some years later it was where the Trust opened their first visitor centre, and fifty years on visitors are still coming to see this magical place. Set in a spectacular position overlooking the Colne Estuary the visitor centre provides stunning views even on the dullest days It offers the visitor real peace and quiet and a chance to escape from it all.
The visitor centre facilities include gift shop offering light refreshments, toys, books, optics, bird feeders & feed, greeting cards and much more. Toilets, baby changing facilities, wheel chair, hearing loop available. Fingringhoe Wick is one of the finest nature reserves in the county, it is attractive to families, organised wildlife groups, school parties and walkers.
Out on the reserve you will find a picnic area, nature trails & bird hides (some easy access) and view points with stunning estuary views. There are numerous benches located around the reserve. There is a full diary of events for both children & adults throughout the year which include a weekly toddler group. There were 40 years of gravel extraction on the nature reserve before Essex Wildlife Trust bought it. It offers a wide range of habitats including areas of grassland, gorse heathland, reedbeds, ponds and the estuary itself.
Fingringhoe Wick is famous for its Nightingales each spring. The songsters ring out over the reserve and there are usually about 25 males to be heard. Thousands of waders and wildfowl use the estuary in the winter and as many as 700 Avocets can be seen.
The nature reserve is a wildlife haven and visitors can enjoy up to 200 species of birds. Numerous dragonflies, damselflies and butterflies and up to 350 species of flowering plants have been recorded. In the spring you can see orchids, clovers, medicks and treefoils.
In the summer the Sea Lavender on the saltmarsh looks spectacular. Seasonal Interest Spring: Nightingale, Chiff Chaff, Whitethroat, Cuckoo, Thyme-leaved Speedwell, Foxglove, Common Vetch and Orange Tip Butterfly and Speckled Wood. Summer: Marsh Harrier, Great crested Grebe (sometimes with young) Turtle Dove, Sand Martin, Swallow, Hobby,Common Spotted Orchid, Green Alkanet, Lesser Calamint, Common Lizard and Slow Worm Autumn: Avocet, Turnstone, Osprey (occasionally as they pass through) Fungi include Fly Agaric, Parasol Mushroom, Milk Caps, Shaggy Ink Caps and Puff Ball
During the autumn "Berry Feast" we appreciate if visitors don't pick the fruits. The Trust reserves the right to request donations for fruit picked at the nature reserve Winter: Brent Geese, Golden Plover, Grey Plover, Knot, Lapwing, Dunlin, Peregrine, Merlin, Hen Harrier, Shovelar, Teal, Wigeon and Red breasted Merganser
Birdwatching From The Hides: The best views of the estuary birds are during the autumn and winter months. We recommend the two hours either side of the high tide provides visitors with the best views. Visitor Centre Facilities Include; tearoom, gift shop, toys, books, optics, bird feeders & feed, greeting cards and much more. Toilets, baby changing facilities and wheel chair.
The observation room offer fabulous views across the saltmarsh. Feeding stations are set up outside so you can relax and watch the wildlife whilst enjoying some of our lovely locally made products from the tearoom.
How to find us We are located just outside Fingringhoe Village. Some of the lanes are a little narrow and several of the locals ride their horses nearby. Public Transport to the visitor centre & nature reserve. Please note: buses only get you to the village of Fingringhoe. The reserve is a 30-45 minute walk from the village. There is a nice walk along the Gravel Pit Trail from the bus stop to the nature reserve.
Environmental designation
Site of Special Scientific Interest (SSSI)
Special Protection Areas (SPA)