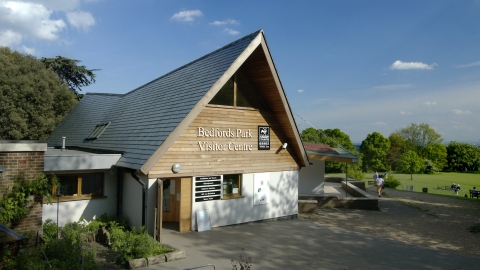 Bedfords Park Nature Discovery Centre
Set in the stunning grounds of Bedfords Park, an historic parkland site of 215 acres, owned and managed by the London Borough of Havering. The nature reserve affords fantastic views over London and into Kent.
Know before you go
Parking information
Large free on site car park
Bicycle parking
Yes
Grazing animals
Red Deer grazing at all times
Walking trails
Various routes around the reserve, call into the Nature Discovery Centre for more details.
Access
Access available to the Nature Discovery Centre, please ask for reserve routes. 
Dogs
Dogs permitted
Dogs on leads are permitted in the seating area of the Nature Discovery Centre and on the reserve. Dogs are not permitted on events.
When to visit
Opening times
Bedfords Park Nature Discovery Centre is open 5 days a week 10.00am-5.00pm. (closed Tuesday & Thursday)

Best time to visit
All year
About the reserve
The Nature Discovery Centre offers visitors a really warm welcome and the opportunity to find out about the wildlife within the park. The park includes many valuable habitats such as mature woodland, species rich wildflower meadows, ponds, streams and marshy areas. The Nature Discovery Centre is built on the site of the former mansion and it commands superb views over much of east London and into Kent. Light refreshments, snacks and a gift shop are all within the Nature Discovery Centre and there is a large decked area to relax on sunny days. There are many exotic trees originally planted in the mansion gardens, such as Cedar of Lebanon, Holm Oak, Monkey-puzzle, Giant Redwood and Yew. The Park has wonderful wildflower meadows where you will find Cuckoo Flower, Pignut and Ragged Robin in the Spring. There is varied woodland, several ponds and a lake, as well as a captive herd of Red Deer. Bird highlights include all three species of Woodpecker, Nuthatch and Hobby. Wild deer are often seen (Fallow, Roe and Muntjac). The meadows and ponds provide superb habitats for a variety of invertebrates including a really wide variety of butterflies, dragonflies and damselflies. Winter sees a large corvid roost, with hundreds of Rooks, Crows and Jackdaws gathering near the deer pen. The upper section of the park offers a more landscaped parkland, while the lower section is managed for wildlife, with hay meadows and some mature woodland and scrub. Dog walking: Dogs can be walked in the park but must be under control, preferably on a lead near the Nature Discovery Centre and deer pen.
Environmental designation
Local Nature Reserve (LNR)