Success for barn owls
The Essex Barn Owl Conservation Project was launched by Essex Wildlife Trust in 2013 as part of the Living Landscapes initiative. The aim was to help reverse the dramatic declines of wild barn owl populations by providing suitable nesting sites across the county, and to encourage landowners to create suitable foraging habitat for the owls to catch their favourite prey, field voles.
Last year, over 200 nest boxes were monitored by our volunteers and 51 active barn owl nests were recorded. There was an average brood size of three chicks and an overall nesting success rate of 24%, the highest recorded by the project.
Although the Trust had hoped this year would include one further nesting season, sadly the monitoring was cancelled for health and safety reasons and after six successful monitoring seasons the project has now been brought to a close.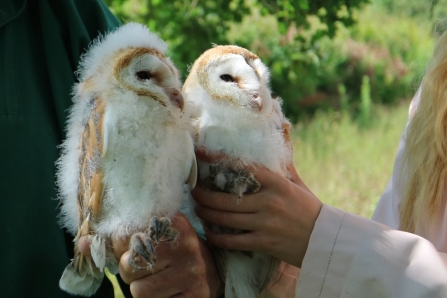 Since its inception in 2013, 320 barn owl nest boxes have been installed across Essex. Over 80 volunteers have been involved at different times, in tasks including building nest boxes, administration, monitoring nest boxes and advising landowners. More than 200 different landowners have hosted nest boxes, with many choosing to include multiple nest boxes where there was space.
Working with licenced BTO bird ringers, over 470 barn owls have been ringed, and that data has been fed into national monitoring reports and datasets, including the "State of the UK Barn Owl Population Report".
This has been an incredibly successful project for barn owls, in no small part due to the dedicated efforts of staff, volunteers, landowners and businesses which have supported the project. Our thanks go out to everyone who was involved and gave up their time to help this iconic bird of prey.
The Trust will continue to work towards creating more space for wildlife and creating a more connected landscape through the development of Nature Recovery Networks.