Essex Wildlife Trust launches WildlifeTV to bring Essex's wonderful wildlife and wild activities straight to people's homes

Each week we are bringing you a jam-packed week of activities and action with WildlifeTV, a digital way for you to engage with your county's wildlife and learn about ways that you can help protect it. 
From top tips on how to make your garden wildlife friendly and wildlife safaris to wild workouts and outdoor learning classes, Essex Wildlife Trust is determined to give you your daily dose of nature, even if you're stuck indoors.
There will be a range of informative videos across our social media channels, giving you the option to tune in at the best times for you.
Alongside the digital episodes we also have a host of wildlife webcams, live streams where you can watch the daily antics of barn owls, bats and badgers all from the comfort of your own home.
Check out this week's full TV schedule below and download the PDF for high-resolution: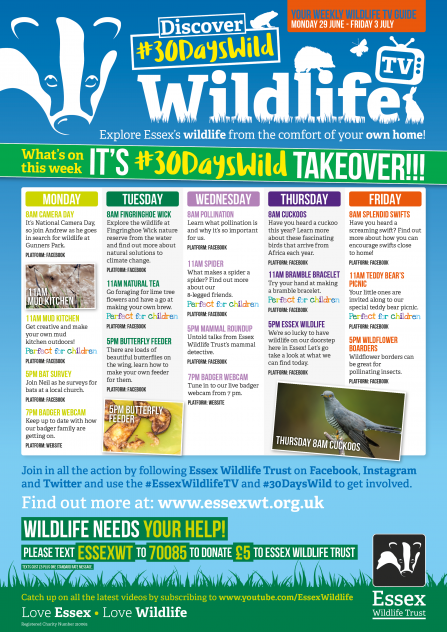 #EssexWildlifeTV Schedule
Donate to Essex Wildlife Trust