This June, join hundreds of thousands of people taking part in 30 Days Wild. We're challenging you to do something a little bit wild every day: that's 30 Days of fun, exciting and simple Random Acts of Wildness. Check back in April for details of this year's campaign.
What is 30 Days Wild?
30 Days Wild is the UK's month-long nature campaign run by The Wildlife Trusts. Each year hundreds of thousands of people around the country take part and give themselves a daily dose of nature.
From little actions (like stopping to smell a flower on you way to the shops or taking a moment to watch squabbling sparrows in a hedge) to big things (like giving up single-use plastics for a month or pledging your support to a nature campaign), 30 Days Wild is all about re-connecting with the natural world around you and doing a little bit of good for wildlife.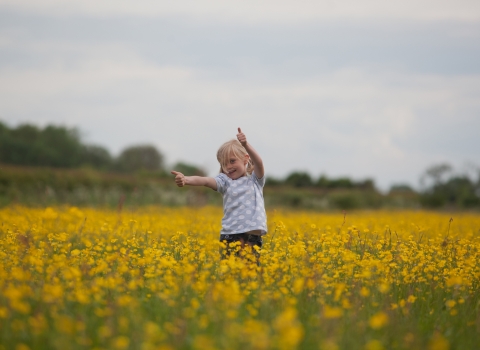 Why take part?
Getting out in the natural world is good for the mind and body. And it's not just for the weekend – it should be every single day. Immerse yourself in nature this June with 30 Days Wild!
Dr Alice Roberts
It's not just wildlife that 30 Days Wild helps; you'll feel the benefits, too! We're all a part of nature, and nature needs to be a part of our lives.
Over the past three years, we've been working with the University of Derby to find out about the impact that 30 Days Wild has on people taking part. Spending time outdoors can make you feel happier, healthier and closer to nature, as well as helping people to take more actions to help wildlife.