Due to the popularity of the Trust's fundraising Steve Backshall event later in the evening on Saturday, 5th October the AGM will now be hosted at Abberton Reservoir
(just 5 minutes away from Abbotts Hall Farm).
Keynote speaker will be new President – Jules Pretty, who is not only an eminent professor at the University of Essex, he is also an award-winning author and a passionate supporter of public engagement for conservation and sustainability.
As well as our CEO, who will be charting our 60-year history, some of our key staff will be outlining plans for the future.
The meeting starts after 2.00pm, with registration from 1.00pm and refreshments will be available from 12.30pm
Members have already been sent invitations with the full programme details, and an Annual Review which explains what work has been achieved in the preceding financial year.
An electronic copy of our full Report of the Consolidated Account for 2018, is attached in the further information below with the agenda and programme of the days events.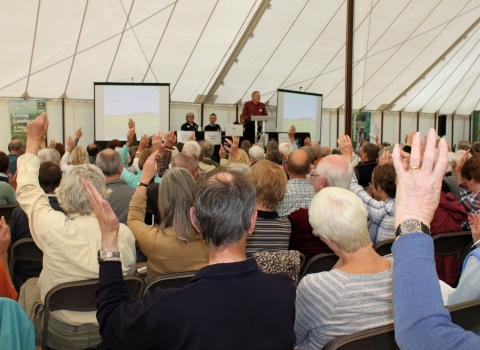 AGM Registration
Online registration has now closed.
Please call 01621 862960 if you wish to attend.
Light refreshments will be available to purchase from Abberton, including a variety of tea and cakes (gluten-free options) snacks, local ale and cider.
Guided Walks
Guided walks start from 4.00pm at Abberton Reservoir and Abbotts Hall Farm.
It would be very useful if you could let us know if you have plans to purchase refreshments on the day and the walk you would like to attend.
Please indicate your requirements below
Further information
Voting Rights
If you are unable to vote in person you may wish to download and complete the proxy form. This can either be emailed back to us or posted via the envelope provided with your magazine mailing.