Essex Wildlife Trust has a Board of Trustees that consists of 13 members, all of whom are unpaid volunteers. The Board meets around six times a year and is responsible for the overall governance and direction of the Trust, whereas operational management of the Trust is the responsibility of the Chief Executive Officer and Senior Managers of the Trust. Three main committees report to the Board: Finance and Audit Committee, HR Committee and Health & Safety Committee.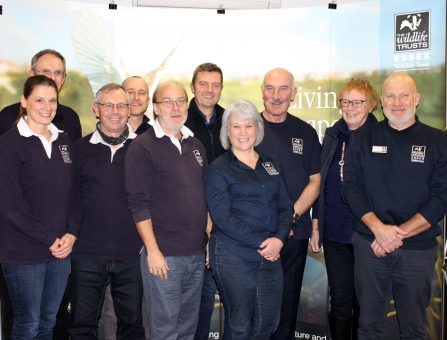 Stewart Goshawk - Chairman

I joined the EWT Board back in 2012 and was elected as the Chair of Trustees after last year's AGM. Over the past twelve months, I have worked hard alongside our Chief Executive and senior management team, to drive our fantastic organisation forward and to get us ready for the future – and now seek re-election. I have worked in the charity sector for around twenty-five years and am currently the Chief Executive of the Wembley National Stadium Trust. Previously, I have worked closely with many of the leading national environmental organisations and was a founding member of the Environmental Funders Network. I've also been a trustee of other local and national charities. I aim therefore to bring to the Board my extensive experience of charity governance, finance and management.

As a proud "Essex boy", the conservation of our natural heritage is so important to me. I'm a keen birdwatcher and butterfly enthusiast; and enjoy wildlife photography and walking in the great Essex outdoors. So, I'm slowly working my way round all our fantastic reserves across the county. 
Penelope Johnson - Vice Chair

I have been a volunteer with EWT for some 18 years, initially in admin and then using my professional skills as an Occupational Psychologist.

For many of those years I have also been on the Board. Currently I am Vice-Chair on the Board of Trustees and Chair of the HR Committee. I am also a Director of Essex Wildlife Sales.

I care very deeply about the future of our planet and I believe that we can all make changes which will help protect our environment. I am proud to be associated with EWT which is playing a significant part in both protecting our wild places and in engaging the people of Essex.
Lin Wenlock - Vice Chair

I have always had an interest in wildlife and over the years my concerns for the natural environment have grown through seeing the impact human activities are having on wildlife and habitats.

I am currently Company Secretary and Administrative Director of a Marine Consultancy, having had over 47 years' experience working in the private sector at Senior Management level for both UK and International companies where it is essential to have the skills to understand people, budgets and deadlines. 

I previously sat on the Board of Trustees from 1998- 2004, and during that time was fortunate to be awarded a Millennium Fellowship which enabled me to increase my knowledge, not just on my favoured species of amphibians and reptiles, but on other UK species and their habitats. In addition, the award gave me scope to gain knowledge of Charity Governance, by attending various meetings with staff of the Charity Commission, and to job shadow CEOs and senior members of staff at various conservation organisations. In 2004, I became Chair of Trustees of the Froglife Trust, a national organisation working to conserve amphibians and reptiles and their habitats.

I returned to the Board of Trustees at Essex Wildlife Trust in 2015 to concentrate once again on conserving the wildlife and natural environment of Essex, in common with all members and staff of the organisation, and to pass on the knowledge I gained through networking with other organisations throughout the UK. 
Keeley Hazelhurst - Honorary Treasurer

It has been my honour to have been with the Trust since 2016 as Honorary Treasurer and trustee.

I currently run my own consultancy and accounting business from North Essex, working on a very hands-on basis with smaller businesses and local charities. I am a qualified accountant with over 25 years' experience in the private and charity sectors. I have been fortunate to work as a trustee, volunteer, school governor and founding member of a variety of charities and community groups, and have recently been appointed as a magistrate too.

I worry greatly about the impact we have on our environment, the future for our children and the disregard that our 'leaders' have for the planet we live on. I am a strong believer in holding people to account and standing up for what you believe in. I believe that EWT is a great advocate for our environment, that it takes action where necessary and protects our wildlife for the future. I am very proud to be a small part of this inspirational team.
Charles Joynson

Since spending much of my childhood and teenage years working in conservation projects and exploring our natural world, I have gained degrees in geology and business, and spent most of my professional life working in the life sciences industry. In 2000 I set up my own 10 person data and informatics consultancy, a long term corporate member of EWT, and have polished my skills in sales, marketing, IT and business research. My reason for seeking election to EWT is that I am extremely concerned at the rate at which our wildlife is vanishing and am determined to do something about it. In my spare time I write about extinction, and like to discuss some of the reasons we should fight to save our natural world before it's too late.
David Holt

I have been a qualified solicitor for thirty-five years this year, working in both private practice and for public bodies, and specialise in environment-related and public law. I work full-time as a senior lawyer and manager for a major public body in Suffolk, but have lived in Essex for over twenty years.

I have been a trustee in both co-opted and elected roles, and enjoy adding what value I can from my legal background to the considerable work already done by staff, volunteers, the local groups and our members. Essex Wildlife Trust is, I believe, a successful organisation which works at many levels, but that success brings its own set of challenges.

Also, despite that success, the pressures on our local and national environment are probably greater than ever and I would like to make a difference in seeing the next generations enthused and active in solving those problems, taking further what is currently being accomplished.
Geoff Duffield

I'm a relative newcomer to both Essex, and Essex Wildlife Trust, having moved to the county from London in 2015, and then joining the board of trustees in January 2017. I feel enormously privileged and proud to be given the opportunity to serve the trust, and to help protect the unique habitat and wildlife of my adopted county. After a lifelong passion for the environment, I am now also a fledgling coastal warden for the trust, with my patch being a stretch of the West Mersea shoreline. 

My professional background and expertise is in brand, media, marketing and social media, in the book publishing industry. In 2018, I set-up my own business, a brand agency specialising in working with authors. Previously I was Creative Director for the publisher Pan Macmillan (and board member for 16 years) leading their global author-brand strategy. Authors that I currently work with include Jeffrey Archer, Peter James, and Elton John.

I love the Essex landscape, and particularly our beautiful maritime environment, and as a passionate photographer I look forward to visiting all of our reserves, and meeting our wardens who do such brilliant work.
Malcolm Hardy

Following a successful, 30-year career in the police service, I currently work as a qualified teacher of biology in post-16 education, with recent experience in all key stages from primary to postgraduate level.

With a lifelong passionate interest and concern for wildlife and the natural environment, I have been involved over the past forty years with conservation projects in the UK and abroad, as a participant, organiser and leader. Such projects have included tree-planting and nest-box building, beach clean-ups, wetland and reedbed restoration, seabed mapping of benthic habitats, Amazonian turtle and West-Indian Manatee protection and giving talks and leading activities as a volunteer for Essex Wildlife Trust.

In 2014 I completed a PhD in Environmental Science at the University of Essex, for which I conducted research in the Colne estuary on the ecology and prospects for regeneration of the native European oyster, Ostrea edulis. I presented a conference paper on native oysters to the Estuarine and Coastal Science Association (ECSA) symposium in 2009. I also hold a Bachelor's degree in marine biology and Master's degree in Freshwater and coastal science from UCL, for which I co-authored a published paper on succession of saltmarshes at Abbotts Hall Farm.

I have an active network of environmental and academic contacts within universities and environmental professions.

As family members of EWT for several years, my wife, children and I are regular visitors to our local reserves, especially in the north of the county.
Philip Ormond

My environmental experience started, as it does with many of us, as a boy living in a rural village, exploring the local woods and moors. This has been a motivating force throughout my life. Inspired by two of my teachers, I went to train as a secondary school teacher specialising in Environment Education and Science. My first teaching post was in a secondary school teaching Rural Science and Biology, where I formed a conservation society which carried out practical conservation work at the weekends. This included projects carried out in conjunction with the West Wales Naturalist Trust and Pembrokeshire National Park Department. Tasks ranged from tree planting to the construction of an easy-access nature trail. The society's hard work was rewarded with several local awards and three national awards.

Following this experience I was invited to serve on the Prince of Wales Committee as an Advisor on environmental projects and education. Subsequently I was asked to serve as a judge for the Prince of Wales Awards for environmental projects, which placed me in the privileged position of visiting environmental projects carried out by a variety of bodies.

I also became a Science/Environmental Education Advisor for schools in Pembrokeshire, visiting schools and providing advice and support in the creation of conservation areas.

I was seconded to the Countryside Council for Wales which enabled me to build on my experience by writing a book entitled 'Environmental Education; a Practical Guide for your School', which was distributed to every school in Wales.

It was during this time that I designed and resourced the 'Science Charabanc' (Science Caravan) and 'Rover Lab'. These were mobile laboratories which provided environmental equipment on free loan to schools and colleges throughout the county. This initiative won a national environmental award. 

In addition, though my role as a Pembrokeshire National Park Voluntary Warden I gained a valuable insight into the challenges associated with managing wildlife sensitive areas in conjunction with recreational activities and the role of a volunteer within a conservation organisation.

In 1994 I relocated to Essex where I continued my environmental education work in several primary schools, helping them to achieve gold medals for their environmental improvement projects.

I have been an Essex Wildlife Trust member for several years and since my semi-retirement I have also taken on the role of a volunteer within the Education and Community team.

I have always believed passionately in the importance of involving young people in environmental work and believe that my experience in this area is of value to Essex Wildlife Trust.   
Rachel Steward

I have served as a Trustee for EWT since 2010, aiming to support the protection of wildlife for the future and people of Essex through this role as well as my roles on the Human Resources Committee, Sales Board and as trustee Safeguarding Representative.

I currently work as a self-employed freelancer, running my own Wild Play and Education business. I deliver environmental education, community engagement work as well as professional development and training. In addition I provide project management and consultancy advice on a variety of projects. I work with schools, community groups, Wildlife Trusts, Children's Centres as well as local and county councils. I am also a community school governor for my local Secondary Academy, rated outstanding by Ofsted.

I worked for the Bedfordshire, Cambridgeshire and Northamptonshire Wildlife Trust as their Head of Education and Community as well as previously being employed as EWT's People and Wildlife Manager and before that as Hanningfield Reservoir's Education Officer. I studied Zoology at Sheffield University before taking a Masters in Environmental Management.

I have always had a passion for the outdoors, wildlife and using our natural wealth of wildlife as an educational tool to enthral both children and adults.
Will Akast

I have worked in conservation management for 19 years, first in various roles for a local authority and since 2004 for the Environment Agency where I worked as a Technical Officer in the Fisheries, Biodiversity and Geomorphology team working in Essex, as the Agency's Regional Biodiversity Officer and since 2012 as Catchment Delivery Manager in Suffolk. In this role I work with partner organisations and land owners and managers to deliver improvements in river habitats and water quality. I'm a Chartered Environmentalist and passionate about the natural world. In my spare time I enjoy long distance walking and cycling and I aim to walk all of the National Trails in Britain.