31/07/20 THE NAZE NATURE DISCOVERY CENTRE IS NOW OPEN THURSDAYS - MONDAYS FROM 10AM - 5PM. THERE WILL BE A TAKEAWAY FOOD AND DRINK OFFER AND THE EXTERNAL TOILETS ARE OPEN. Please wear a face covering when in the centre.
Please read the Trust's latest statement on COVID-19 here.
Thank you for your support and patience, we look forward to welcoming you back to the centre as soon as we can.
The Naze is a unique coastal landscape of outstanding geological and biological importance. As the most easterly peninsula in Essex it is an important site for migrating birds and boasts a number of different habitats, both terrestrial and marine.
Know before you go
Parking information
The car park is run by Tendring District Council. A ticket required at all times after 10.30am. The car park is locked at 9pm (summer) 6pm (winter). Parking charges: 1 Hour - £1.20, Up to 2 Hours - £2.20, 4 Hours - £4.00, All Day - £5.00, Evening - £1.00
Access
Disabled parking and visitor centre facilities. Limited access around public space. Please contact the visitor centre for more information.
Dogs
Dogs permitted
No dogs in the building, welcome on the site.
When to visit
Opening times
31/07/20 - The Naze Nature Discovery Centre is open Thursday - Monday, 10am-5pm.
Best time to visit
All year round
About the reserve
The Naze also has immense historic and civic importance, the famous Naze Tower being just one example, and is a site where coastal change can be easily seen and understood. 
The Naze is a special and important place for many reasons and is a place where wildlife thrives, from insects living in the soft cliffs to the familiar barn owl hunting over the grasslands. The Naze is the gateway into Hamford Water National Nature Reserve, an area of international importance due to the number of wildfowl and waders that it supports and is itself a sanctuary for migrating and nesting birds, from Dark Bellied Brent Geese to Sedge Warbler and Whitethroat. To the east of the peninsula are the famous cliffs, fifty million years old and designated a Site of Special Scientific Interest. The 70 foot high cliffs are made up of London clay, Red Crag and Thames sands and gravels and fossilised sharks teeth, shells and wood are found daily on the beach.
The Naze is a site where coastal change can be seen and clearly understood. The cliffs are eroding at a rate of (on average) 1-2 metres per year. The section of cliff directly in front of the iconic Naze Tower was however protected in 2011 with the construction of the 'Crag Walk Platform', a 100 metre public access and viewing platform. Essex Wildlife Trust was a key partner in the project to protect this section of the cliff. 
The John Weston Nature Reserve is located in the northern part of the Naze. This 9 acre reserve is dedicated to the leading Essex naturalist John Weston, who was warden at the reserve until his death in 1984 and consists of Blackthorn and Bramble thickets, rough grasslands and four ponds or 'scrapes', three of them created since the reserve was established. Nesting birds include Common and Lesser Whitethroat, joined recently by Cetti's Warbler. Water Rail are seen and heard regularly. It is an important landfall for migrants, including many rarities, and also attracts a variety of winter visitors. The Naze is also a perfect place to get an introduction to marine wildlife, with harbour porpoise out to sea, common and grey seals in the backwaters and a whole host of species to find on the beach and in the mud pools including crabs, scallops and whelks.
The Naze has a rich history and has been used as farmland, a golf course and a military camp in the past. The iconic Naze Tower, built in 1720 by Trinity House to mark the promontory for shipping approaching Harwich Harbour, has had multiple uses over its history including the home for a Chain Home Low Radar during the Second World War. There a number of military relics on the Naze, including the mountings for ack-ack guns on the beach, along with several pill boxes, both on the beach and on the open space above. The Naze is a very important place for the people of Walton and Tendring and one which engenders huge civic pride. There are a number of specifically designed walks around the site including the Walton Wildlife Trail, part of the Walton Community Forum funded 'Walton Trails project'. Be careful to check the tides before your visit if you want to explore the beach.  
Environmental designation
Site of Special Scientific Interest (SSSI)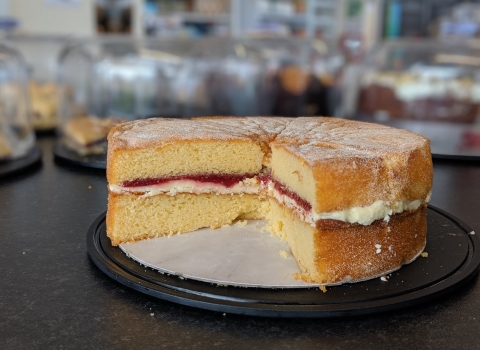 Cafe
We serve a selection of hot items, sandwiches, jacket potatoes, toasties, children's lunch boxes, delicious handmade cakes including gluten & dairy free, toasted teacakes and seasonal tray bakes. Open daily, serving from 9.30am - 4.30pm with hot food cooked until 4.00pm (summer time). 9.30am -3.30pm with hot food cooked until 3pm (winter time).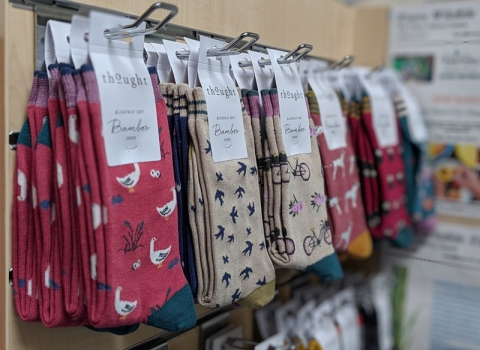 Shop
The Visitor Centre has a well stocked shop, including monoculars and binoculars, wildlife and children's books, sustainable clothing, bird food and feeders, gifts, greetings cards, hot and cold drinks, packaged snacks and ice creams. We also stock a wide range of fossils including shark's teeth and ammonites.