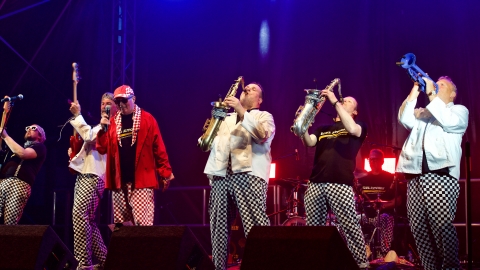 Soul Kitchen
Location:
Church Rd
Layer-de-la-Haye,
Colchester,
Essex,
CO2 0EU
Book
Join the irrepressible and ultimate party band, Soul Kitchen, as they take to the stage, headlining Wildfest for an evening of pure entertainment. Their unique brand of sixties soul, funk and ska music, combined with the most energetic stage show this side of Las Vegas just has to be seen to be believed!
About the event
From their humble beginnings in a Brightlingsea pub, Soul Kitchen have gone on to become one of the biggest and best loved bands in the area. The current 7-piece line up, including a 3-piece horn section whose dance moves really make you question their sanity, has been unchanged for the last 4 years. It still includes three of the original members; Bazza The Jazzer on sax, Ed Chef (aka Mike Rushmore, who switched from drummer to lunatic front man) and Jazz Beard, who actually ran home to fetch his trumpet and joined the band half way through the first gig! 
Soul Kitchen have been described in the press as "irrepressible" and "the ultimate party band" and they are guaranteed to get any joint jumping. Apart from the occasional live performance captured for radio broadcasts, I'm afraid you won't find any recordings of the band for sale. Despite requests, the band took the conscious decision that as theirs is such a visual performance they could never do justice to the live show in sound alone. So, make the most of this opportunity to see what all the fuss is about!
Booking
Price
Adults £15, children £8
Additional booking information
Advance booking recommended
Suitable for
Families, Adults