Take advantage
We have some great Will-writing offers for our supporters, now available all year round! We are extremely grateful to the solicitors and Will writers who have agreed to take part. Be in control of your very final wishes by putting a valid Will in place today.
Why is having a Will so important?
A Will is important if you are over 18 years old. It does not need to be complicated. More than 60% of the UK population do not have a Will in place. When people are asked why they do not have a Will, a common response is "I do not have anything worth writing one for". If you have a bank account, that is a good enough reason alone, especially if it is joint with someone you are not married to. Here are a few other reasons…
Having a Will means you have complete control of your affairs when you die and gives peace of mind.
It reduces a lot of stress for those left who would otherwise have to make such decisions at a time when they are coming to terms with the loss.
It provides security for family and friends.
If you are not married or in a civil partnership, your partner is not legally entitled to anything without a Will.
A Will can help reduce Inheritance Tax.
You can set out your funeral arrangements.
If you have no living relatives at time of death – the Crown gets everything.
When is an appropriate time to make a Will?
It is a good idea to have a current Will at all times. You can make or update a Will at any time, and it is recommended you should consider doing this every 5 years or when any of these things happen to you:
When you're in a happy relationship, get married, or have a civil partnership
When you have a child or your children turn 18
When there is a death in the family
When your estate changes in value
What happens if I do not have a Will?
(Known as dying intestate)
This can cause a lot of heartache at a tough time. To understand the impact of this, it might be useful to know what would happen. Here are some of the complications:
There's no choice about who gets what
If you are not married or in a civil partnership, your partner is not legally entitled to anything
The state will appoint guardians for any underage children
If you promise personal gifts, there's no guarantee that they'll get them
If you have no known family heirs then your estate, if unclaimed, will go to the state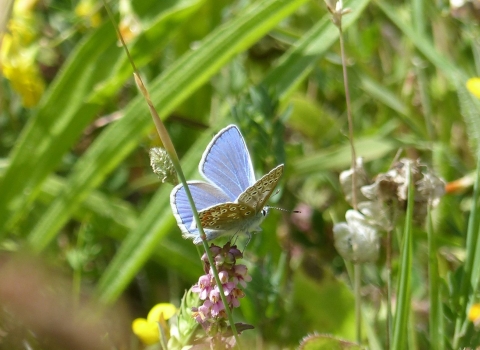 How does the Essex Wildlife Trust Will Promotion work?
We have tried to cover as many scenarios for different lifestyles in the hope you find one to suit you. If you have a more complex estate it would be advisable to have an appointment with a legal professional due to the importance of this sensitive subject.
The offers available range from free Wills to discounted Wills. There are options to produce your own Will via on-line platforms, or you can have some of the participants come to your home, saving you a journey. Alternatively, there are various solicitor offices in Essex you may want to attend. The participating companies are in the document at the bottom of this page.
What do I do?
All you need to do is complete a EWT Will promotion registration form at the bottom of the page and return it to Rosalyn Leclercq, Senior Legacy Officer via email legacies@essexwt.org.uk or post (mark confidential) to Rosalyn at Essex Wildlife Trust, Abbotts Hall farm, Great Wigborough, Colchester, Essex CO5 7RZ. Once received, an appointment will be arranged. It is that simple. To help you plan for writing a Will we have created a document that you may or may not want to use.
So why not take control and create a Will today? Essex Wildlife Trust would be honoured if people who use our Will promotion leave a gift in their Will to the Trust. However, there is no obligation to do so. But we very much hope you'll use the opportunity of using the Will promotion, not only to save money but also to have the chance to support the Trust with your final gift.