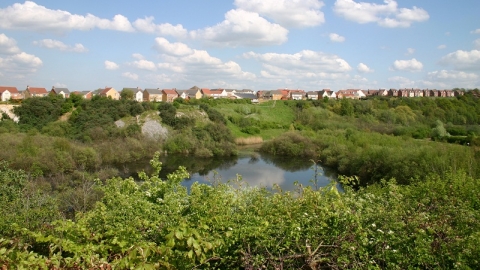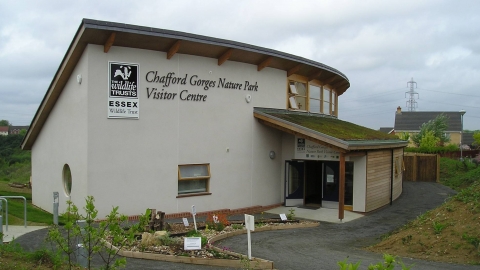 Chafford Gorges Nature Discovery Park
CHAFFORD GORGES NATURE DISCOVERY CENTRE IS CURRENTLY CLOSED
Please read the Trust's latest statement on COVID-19 here.
Chafford Gorges Nature Discovery Centre is set in a spectacular position over looking Warren Gorge. Chafford Gorges Nature Discvery Park offers 200 acres of green space for numerous wildlife and recreation for the 12,500 people living in Chafford Hundred.
Location
Know before you go
Parking information
Car park on site
Bicycle parking
Yes
Walking trails
Various routes around the gorges. 
Please note: there are no public rights of way around Lion Gorge and any access has always been permissive and at the discretion of Essex Wildlife Trust.  The area is used by a local fishing club and last year they experienced a spate of anti-social behaviour and we agreed to gates being installed, so they could lock the area while they were fishing.  The public can still walk down to the lake and enjoy views across the lake and when there is nobody fishing the gates will be open, so the public can continue to enjoy walking further around the lake at those times.
Dogs
On a lead
Please keep under control at all times
When to visit
Opening times
The Nature Discovery Centre is currently closed.
Best time to visit
All year round
About the reserve
Chafford Gorges Nature Discovery Park offers 200 acres of green space for wildlife and people of Chafford Hundred. A network of pathways take you around the lakes, meadows and woodland. You can get up close and personal with the wildlife, history and geology of the site. The park is within walking distance of Chafford Hundred railway station. If you have more than one dog, they must all be on a lead. Maximum of four dogs allowed. At Lion Gorge, all dogs must be on a lead.
January 2019: Essex Wildlife Trust (EWT) has made the very difficult decision to close their trading business, comprising of a café and small shop, at the Chafford Gorges Visitor Centre. The centre will continue to be an important part of EWT's activities, with staff based at the site prioritising our main charitable aims of educating and conserving nature. The trading element of our visitor centre is an addition to our charitable aims to financially support our main charitable works. As this was no longer a viable option, the regrettable decision was taken. The visitor centre is currently closed to the public and there is no access to the toilets. 
Environmental designation
Site of Special Scientific Interest (SSSI)