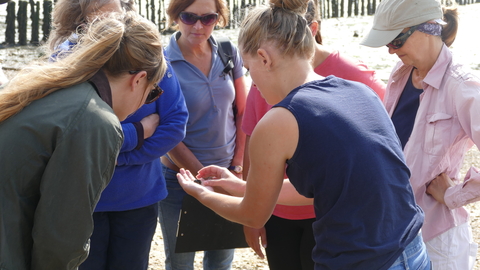 Shoresearch Survey
Location:
Beach Road
Off Lee Wick Farm
,
St Osyth,
Essex,
CO16 8ET
Join our Shoresearch project and help survey our marine wildlife.
About the event
Shoresearch is a volunteer scheme to identify and record animals, plants and habitats along our shoreline. The project aims to build a baseline of data on the marine wildlife that occurs in Essex.
Essex Wildlife Trust's Living Seas Team organises surveys at several locations along the Essex coast. We usually survey for 2 – 3 hours.
Who can take part?
We welcome volunteers of all ability and experience to join Shoresearch! If you are keen to learn and happy to give up a few hours of your time, you are welcome. Prior knowledge of marine life is not necessary, but the events are still good for more experienced surveyors. The shore can sometimes be slippery and hard to access, so you do need to be fit and mobile to take part.
Shoresearch events are suitable for 16+ and we ask you to please not bring dogs. Volunteers under the age of 18 must be accompanied by an adult.
What do I need to bring to a survey?
• Appropriate clothing for weather conditions on the day (warm clothing and waterproof trousers are often useful; sun protection).
• Sturdy footwear - wellies or other waterproof footwear, preferably with good ankle support.
• Drinking water.
How to get involved?
Please register for each survey by emailing shoresearch@essexwt.org.uk
Booking
Additional booking information
Please register for the survey by emailing shoresearch@essexwt.org.uk