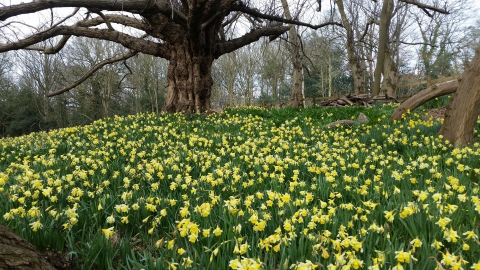 Warley Place Nature Reserve
There are important works on the historical features in progress at Warley Place from June-November 2022. These works are essential to restore the parts of the site at risk, to protect the national importance of the site and to enhance the experience of visitors. 
Access to some routes will be cornered-off during this period, please follow the signage and keep to the designated trials. Thank you.
Warley Place is open every day during daylight hours. This 25 acre reserve is the site of a house and once famous Edwardian gardens belonging to Ellen Willmott, it is now maintained as a nature reserve by Essex Wildlife Trust. There are some spectacular flowers to be enjoyed throughout the year, especially in the spring.
When to visit
Opening times
The gate at Warley Place is opened every day during daylight hours.
Best time to visit
February to June
About the reserve
Miss Ellen Willmott remodelled the gardens and introduced into them a vast assortment of new plants from all over the world. Some are still found on the reserve.
What to look for: The garden had fallen into neglect but has now been restored by an enthusiastic team of volunteers, although not in its original form. Part of the buildings remain and can still be seen and some areas are dangerous because of hidden cellars, water holes and decaying walls.
Warley Place with its show of blooming spring flowers - from snowdrops to daffodils and crocuses then bluebells - is a spectacular sight to see. Also, look out for the Magnolias and Camellia, Winter Aconites, Anemones, Foxgloves and Ferns, which grow in profusion. Among a variety of trees, some exotic, is a line of huge Sweet Chestnuts. The reserve attracts a wide variety of birds, including the Nuthatch, and has a good selection of invertebrates including an excellent variety of meadow and woodland butterflies. Areas have also been adapted as very suitable bat habitats.
Did you know? The path from the car park to the reserve was the drive to the house and before that the main road from Great Warley to Brentwood. The road was moved to its present position in the 19th century.
Environmental designation
Local Wildlife Site (LWS)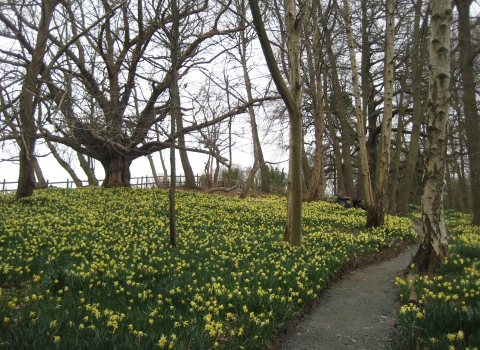 How to find us
Directions - On the B186 (Brentwood to South Ockendon) just south of Brentwood. Entrance next to Thatchers Arms pub.
Public Transport - Infrequent buses from Brentwood to Romford and Grays run past the entrance; ask for Thatchers Arms.
The entrance is adjacent to the Thatchers Arms pub (post code CM13 3HU) and through a wooden barred gate that should be kept closed.